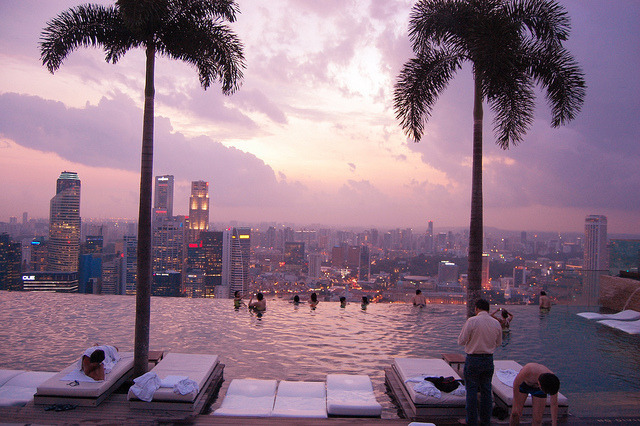 Planning Tips:
Know the difference between "direct" and "nonstop" flights, and always opt for the latter. Unlike nonstops, direct flights can touch down at other airports on the way to their ultimate destinations. And while stops are built into the total travel time, the potential delays they can cause aren't.
Opt for long term parking rather than calling a cab. Catching a flight is a lot more work than catching a bus or train, so why risk the chance of running late when you can simply drive yourself? When you use a long-term parking lot like JFK Discount Parking, you travel knowing that your car is safely parked and you also don't have to waste your time hailing a taxi when there are hundreds of people doing the same thing.
Make sure you buy your ticket under the exact name that appears on your ID. It might seem obvious to you that Betsy is a nickname for Elizabeth, but it may not to a skycap, a desk agent, or a security officer―any of whom could ask you to show ID with that name before boarding, says Delta Air Lines public-relations rep Katie Connell.
Select your seats ASAP. "If you have a disability and need a premium seat in the bulkhead, tell the agent when you make your reservation rather than at the airport," says David Martin, a Delta passenger-service specialist who creates the airlines policies for customers with disabilities. Other passengers might be able to nab those seats 24 hours before the flight, when they're made available to everyone through the airline's website.
Get to your gateway city as early as you can. "Since delays stack up as the day progresses, it's smart to book the first flight you can into a hub [if you have a connecting flight]," says Dunnagan.
Double-check foreign document requirements. Some countries―like Chile, Kenya, and India―require a visa for entry; others, like South Africa, won't allow entrance unless a traveler's passport contains at least two blank, unstamped pages. You need to be aware of such requirements before you make your flight reservations or you could get stuck Stateside, according to a source at the U.S. Department of State Bureau of Consular Affairs. For a complete list of entrance regulations, visit travel.state.gov/.
Packing Tips
Set your luggage apart from the pack. "When passengers use ribbons and bows, they can be torn off in the transporting process," says Chris Gossner, a customer-service supervisor with US Airways for more than 20 years. Your best move: Buy a suitcase in an unusual color, such as bright blue.

Stockpile samples. Freida Burton, a US Airways flight attendant for almost 31 years, carries samples of cosmetics and prescription creams, which she requests from her doctor. Go to walmart.triaddigital.com or freesamplesblog.com for a variety of freebie offers. Or take advantage of Sephora's and Kiehls's policies of giving three free samples with any online order.
BYO blanket (and disinfecting wipes, too). "I hate to say it, but tray tables are rarely cleaned, so wipe them off before you use them," says Sarah Scott, a former US Airways flight attendant. "And steer clear of the blankets and pillows. They're only washed when they look dirty."
Pack your electronics in a single layer. "When things are tossed in haphazardly or jumbled together, we spend more time determining what they are [from the X-ray] and have to manually check bags," says Sterling Payne, a spokesperson for the Transportation Security Administration (TSA).
Know your airport's code. It's easy for luggage-destination tags to get mixed up at a curbside check-in. Learn the three-letter airport code for your destination and make sure your skycap labels the bag properly. The codes aren't always intuitive (for example, New Orleans's Louis Armstrong Airport is MSY), so check the list at airport-technology.com, especially if your destination has more than one airport. "Cities with multiple airports can cause problems if passengers don't know which they're flying into," says Tim Wagner, a spokesperson for American Airlines.
Ask about your options. Stuck with your children at Boston's Logan Airport? An airport employee can direct you to terminal C, where a baggage carousel–style slide anchors a play area. Tired of the same old food-court choices? In the Austin, Texas, airport, make a beeline for Salt Lick―it serves up some of the state's best barbecue. You can even get through security faster by seeking out additional lines: "Airports will often open another line during peak times, so it pays to ask," TSA spokesperson Sterling Payne says.
Exercise caution in duty-free shops. "Not everything in duty-free is a bargain," says Janice Mosher, director of the Customer Service Center for U.S. Customs. "If you really want that bottle of perfume, find out what it costs in your local department store first." And consider the three-ounce rule when stocking up on things like alcohol and olive oil. "If you are transferring to another domestic flight after clearing customs in the U.S., you'll have to put your liquid duty-free purchases in a checked bag," Mosher says.
Spring for an afternoon in the lounge. For a fee―usually about a day, which you can pay on the spot―you can take advantage of the snacks, uncrowded bathrooms, and comfy chairs at most airline club lounges, plus you can get help from the club's dedicated ticket agents. "Several times when it's looked like I would be stuck somewhere for another day, a club agent has pulled a rabbit out of his hat," says Bill Coffield, an attorney who flies between 50,000 and 100,000 miles a year.
Flying Tips
Bring a car seat for your child. "Car seats aren't just safer for children," notes Veda Shook, a flight attendant who has been with Alaska Airlines for 16 years. "They also help kids stay calmer, since they're used to being in them." Shook suggests investing in a car seat-stroller combination. "The seat slides right out of the stroller part, which you can check at the gate," she says.
Corral your in-flight necessities. Blocking the aisle during boarding while you dig for gum, a book, or a snack can delay the entire plane. Dezirae Bridges, a Delta flight attendant for 11 years, suggests packing small must-haves in a resealable gallon-size bag that you can toss onto the seat while you put away everything else.
Stow your bag near your seat. "It's tempting to toss your suitcase into the first empty space you see, but that slows down deplaning, as passengers who had to stow their bags near the back move downstream to collect their belongings," says Beth Jones (not her real name), a US Airways flight attendant with 34 years under her (safety) belt.
Call for help. If you've missed a connection, don't stand in line to rebook with a gate agent. Instead, use your cell phone to call the airline's customer-service number (tuck it in your wallet before leaving). You may speak to someone faster, giving you a better shot at a seat on the next flight.
Utilize cell-phone lots. Free-parking areas where drivers can wait for the "I'm here" call for 30 minutes or longer have sprung up at more than 50 airports in the last few years. For a complete list of these lots, visit the Airports Council International website at aci-na.org.
Get fed fast. To have dinner waiting in your hotel room when you arrive, call and order room service from the road. "It can save a hungry half hour," says Barbara Talbott, an executive with Four Seasons Hotels in Toronto who flies about 20 times a year.
---
By March, spring is stirring across the northern hemisphere, thawing a number of high-profile destinations from their chilly, off-peak periods – with the added bonus that the crowds have yet to arrive. Meanwhile, in the southern hemisphere the mercury is starting to slide in the opposite direction, attracting thrill-seekers and bargain hunters for low-season adventures. So what are you waiting for? Book your spot at JFK Discount Parking, head to the airport and saddle up for your upcoming adventure!
Whether you're looking to bask on mesmeric beaches, sail to little visited atolls or bounce around on an underground trampoline, March is a rewarding time to hit the road.
… for relaxation
They say Antigua has so many beaches that you can sample a different one every day of the year, but come in March – pre-peak season – and you'll be rewarded with balmy temperatures and a deserted patch of sand to sprawl out on. Serene white sands are also on offer in San Diego; the cool Californian city attracts less tourists than its star studded neighbors and during March also sees migrating grey whales dramatically lurching skywards from beneath its coastal waters.
Those who found solace through more active avocations, should head to Sri Lanka's ancient city of Anuradhapura; here visitors can cycle between humbling ancient monuments peeking from their serene forest settings – the spiritual atmosphere is intoxicating. A more literal form of inebriation draws people of the rolling hills of South Adelaide in March, with the start of grape harvest season. The lesser-visited wineries of the Fleurieu Peninsula offer a diverse repertoire of fine vinyards, as well as artsy towns to explore such as Willunga and Kitsch Victor Harbor.
… for 'the journey'
Voyage through uncharted waters – for the tourism industry at least – off the southeast coast of Myanmar, which are home to the long isolated Myeik (or Mergui) Archipelago. Here 800 or so islets hide undisturbed sands, forests reputedly prowled by tigers and elephants and the stilted fishing villages of the Moken, Myanmar's nomadic 'sea gypsies'. An equally beautiful and intriguing island escapade awaits off the coast of Chile, with March being a perfect time to ponder the secrets of Easter Island, with its iconic Moai stone figures and mysterious ancient traditions.
Those set on keeping their feet firmly on dry land should try saddling up in Bright, Australia's premier biking destination with 240km of safe off-road routes in optimum temperatures. Test your mettle on Victoria's High Country alpine trails, or cycle leisurely between historic gold-mining towns. For equally spirited outdoor soirees, March marks a great time to trek to the hill tribe villages around Sapa in northern Vietnam, which can be paired with a traditional junk boat journey around the emerald waters of Halong Bay.
…for wildlife and nature
A tour into the heartland of China's sundry Sichuan province is at its best in early Spring, with blooming flowers and blossoming pear trees. It's also a great time to meet the province's treasured icon: the giant panda. Get an introduction in the Giant Panda Breeding Research Basenear Chengdu, or try your luck at spotting these captivating creatures in the wild at the Jiǔzhàigōu National Park. Equally as iconic, and far more ferocious, March is a good time to spot Shere Khan in the forest reserves of Madhya Pradesh – the reported inspiration for Rudyard Kipling's The Jungle Book. Though sightings of Bengal tigers are rare, March provides your best chance, with good visibility and thinning flora.
March also sees the fruition of some striking natural displays, Brazil's Iguazú Falls – which divides the country from a slender finger of Argentina – is still in full thunderous flow, with fewer crowds condensing the surrounding rainforest trails. Across the equator, the Caribbean islands of Trinidad and Tobago are swathed in sunshine, reefs are ripe for snorkelling and Tobago Main Ridge Forest Reserve is bustling with birdlife.
…for adventure
Ah, the traditional sights of springtime in North Wales: gambolling lambs, sprigs of daffodils on hillsides and grown adults screeching overhead as they hurtle along zip lines. A visit to Wales in March offers the chance to mix placating nature walks with some of the region's high-octane activities, from white-water rafting to trampolines in underground caverns. More exotic eco-adventures abound in Costa Rica, which, by March, is into its dry(er) season and offers an array of adrenaline-fuelled fun: think volcano hikes, forest canopy climbs and superb surf breaks.
March may signal the start of spring in the northern hemisphere but that doesn't spell the end of ski season in the high resorts of the Austrian Tyrol, where glaciers and north-facing slopes provide runs through to April, with fewer crowds. For those who prefer the spray of the sea to a spritzing of snow, March is an ideal month to roam the coves and inlets of New Zealand's Bay of Islands aboard a sailboat. Those suffering from cabin fever can go overboard to take a dip with the resident pod of bottlenose dolphins.
---
International travel always involves the inevitable airport layover. And, like people, airports come in all shapes and sizes. These distinctive characteristics can either create a relaxing and enjoyable experience or a frustrating and miserable stay. Here is a list of the best airports on the planet for long layovers.
AMSTERDAM AIRPORT SCHIPHOL
Where: Amsterdam, Netherlands
Code: AMS
Amidst the flash of modern airports around the globe, Amsterdam Airport Schiphol's novelty is its age. Built in 1916, the Dutch terminals boast a library, museum, meditation room, spa, and even a grand piano that is open to public use. Also, if you're in a need of a shower before your next flight, YOTELAIR (near the meditation room) allows access to their facilities for only 15 euro.
CHUBU CENTRAIR INTERNATIONAL AIRPORT
Where: Tokoname City, Japan
Code: NGO
With hundreds of millions of travelers moving through Japan on an annual basis, the country is home to some of the best airports in the world. At the top of that list is Chubu Centrair International Airport, located on an artificial island off the coast of Tokoname City. It may not be the busiest airport in the country, but whether you're traveling internationally or domestically, it provides lounges to relax in, as well as  a captivating viewing deck to take in all the action out on the runways.
FRANZ JOSEF STRAUSS AIRPORT
Where: Munich, Germany
Code: MUC
Even if you don't have a layover there, you might want to check out the Franz Josef Strauss Airport, especially if you're in the area during the holidays. During the month of December, you can find a Winter Market inside the airport itself, complete with hundreds of vendors and live Christmas trees. There is also an ice skating rink where you can rent skates and get some exercise while waiting for your next flight. And, depending on the season, there may be an event at the facility's MAC Forum, where both tennis matches or pool surfing can be viewed and enjoyed.
HONG KONG INTERNATIONAL AIRPORT
Where: Chep Lak Kok, Hong Kong
Code: HKG
Only 25 miles from the city's downtown area, the Hong Kong International Airport (known to locals at the Chep Lak Kok) is one of the busiest in Asia. If hunkering down for a layover, look into buying your way into some of the nicest lounges around, which are filled with tea houses and noodle bars. For a cheaper experience, though, visit the airport's Aviation Discovery Centre, which offers flight simulations and a delightful flight deck to observe the planes outside. On top of that, there is also an IMAX theatre and 18-hole golf simulator.
INCHEON INTERNATIONAL AIRPORT
Where: Incheon, South Korea
Code: ICN
Despite its close proximity to Seoul (roughly 30 miles), you won't feel a huge need to leave the comfort of this airport. Packed with plenty of entertainment options and activities, South Korea's largest airport proudly hosts local music artists to greet travelers, and features movie theaters, a golf course, and even an ice skating rink.
PORTLAND INTERNATIONAL AIRPORT
Where: Portland, Oregon, USA
Code: PDX
Portland may not come up in conversation while listing the world's most attractive cities, but Oregon's capital provides an amazing airport experience. Representative of the city itself, Portland International Airport isn't large by any means, but is full of quirks. The terminals offer some of the best eateries around, including Blue Star Donuts, Flying Elephants deli, and Oregon Market — a sweet tasting collection of local food carts and trucks. In addition to the food selection, there are art installations throughout the airport, as well as a branch of the distinguished Powell's Books — a store mixed with both new and used literary treasures.
SINGAPORE CHANGI AIRPORT
Where: Singapore, Singapore
Code: SIN
A five-star airport according to SKYTRAX, Singapore Changi Airport marvels with a myriad of attractions. Catering to roughly 60 million passengers in 2016 alone, the airport recently opened a fourth terminal for even more business. Providing visitors with a fresh air experience, there are four gardens to explore, each emphasizing a different species: cacti, orchids, sun-flowers, and butterflies. These gardens are located in different terminals, but Changi's serviceable skytrain takes you right to all of the major attractions, like a free movie theatre and a 40-foot (12 meters) slide in terminal three.
VANCOUVER INTERNATIONAL AIRPORT
Where: Vancouver, British Columbia, Canada
Code: YVR
A glassy, modern structure beaming with natural light and open space, Vancouver International Airport is a stunner. The airport hosts numerous art pieces and sculptures that can be seen regardless of what terminal you find yourself in. If you're lucky enough to be passing through on a Friday, check out Take-Off Fridays, an event that showcases musicians, face-painters, and even offers a one-hour architecture tour. Finally, if you want some fresh air, the nearby Chester Johnson Park is just outside the airport.
ZÜRICH AIRPORT
Where: Zürich, Switzerland
Code: ZRH
Located in northern Switzerland, the Zurich International Airport was voted the seventh best airport in the world in 2017 — and for good reason. Known for its efficiency and cleanliness, the alluring catalog of attractions include relaxing cafes filled with delicious coffee and pastries, quiet areas with comfy seats to read or relax, and plenty of outlet and boutique shops that serve as an opportunity for some retail therapy before it's time to board.
---
JFK Discount Parking started because we believed there needed to be a better alternative to long-term parking than what was available. We are seasoned travelers who have been all over the world and for that reason, love to share the things we learned. After visiting the entire boot of Italy over the course of 20 years, we are confident in our ability to navigate your foodie needs. Italian food is revered around the world. If you're wondering where to find the best meals, look no further than this guide. If you start salivating, don't resist the urge. Book that ticket and book that parking spot. Mangiamo, Baby!
Classic Italian dishes in Bologna and the Emilia-Romagna region
The Emilia-Romagna region is known as the "breadbasket" of Italy. It's no wonder that its capital city, Bologna, is one of the culinary and cultural hearts of Italy, and the birthplace of some of Italy's most beloved pasta dishes, including lasagna, ravioli, gnocchi, and tortellini. When in Bologna, try tortellini al brodo (tortellini in broth), lasagne verde (made with spinach pasta), and ravioli (made with egg yolk, cheese, and vegetables).
Pizza in Naples
Naples became the birthplace of pizza when one clever chef added tomato to traditional Roman focaccia (a flat bread studded with toppings) in the 18th century. Traditional Neapolitan pizza has a thin, chewy crust; a bright, flavorful sauce; and a light covering of cheese. When in Naples, do as the Neapolitans do and head to Antica Pizzeria Port'Alba — the oldest pizzeria in the world, which opened in 1830. The best part about it all? You'll probably pay less than two USD for a slice.
Focaccia in the Tuscany region
This delicious flatbread first made its way onto tables nearly 2,000 years ago. The word "focaccia" is Latin for hearth or fireside, apt as the bread is baked on hot coals or on a hearth. Made from flour, water, sugar, salt, yeast, and oil, the resulting dough is baked and punctured to release bubbles. Over time, the popularity of this particular bread spread throughout Italy and bakers began adding their own unique toppings (i.e. cheese, meat, vegetables, herbs, and even honey).
Risotto in northern Italy or Milan
Risotto alla Milanese has a storied history in Italy's food culture. Rice was first introduced to the region of Sicily by the Moors and the Saracens in the 1200s, and rice production took hold in Milan and in the Po Valley of the north soon after. Eventually, in the 1800s, Risotto alla Milanese became a household favorite in Milan — in this dish, the rice is sauteed in butter and broth, and then cooked with onion before being dressed with beef marrow, saffron, nutmeg, and grated cheese.
Prosciutto in Bologna
Take it from a city whose Italian nickname (La Grassa) means "the fat one" — Bologna knows how to eat. One of its favorite offerings is prosciutto. Prosciutto is made from cured and salted pork, sliced very thinly. In Bologna, you'll find a variety of delicious plates that pair this cured-meat delicacy with a variety of cheese and olives. Sound tasty? Head to Dal Nonno for some of the most delicious prosciutto in Bologna.
Fiorentina Steak in Florence
If you like meat, you can't visit Florence without trying the Florentine Steak (also called Bistecca alla Fiorentina, or la Bistecca for short). Bistecca became a Florentine favorite some time ago because of its Porterhouse cut (a type of cut between the sirloin and tenderloin). Visitors will quickly realize that most restaurants in the city serve the Florentine Steak, but for undoubtedly superior meat, grab a seat at Trattoria Mario, I' Brindellone, or Perseus.

Coffee in Naples
The gritty cafés of Naples are characterized by some of the most delicious cups of coffee — espresso, to be exact. You'll find a serious lack of electronic espresso machines, as most Neapolitan baristas prefer to brew their espresso by hand. At Naples' best cafés, patrons gulp down their coffee (with several scoops of sugar) and leave — there is little to no lingering involved. We recommend visiting Gran Caffe Gambrinus or Caffe Mexico for a hot cup.
Gelato in Florence
Gelato has a long history in Florence — the Medici family brought sorbet to France, but a Florentine court artist, Bernardo Bountalenti, was the first to create churned gelato. By the 1600s, gelato had taken off in Florence, and vendors in every square were selling it. Flavorful, refreshing, and delicious, gelato is still a facet of Florentine life. Head to Vivoli, Gelateria dei Neri, and Gelateria La Sorbetteria to sample some of the best.
Limoncello in Cinque Terre, the Amalfi Coast, or Capri

This sweet, bright-yellow liqueur is actually an after-dinner drink called a digestif (presumably taken to aid digestion). Have a sip of
limoncello at the end of your meal, but don't be surprised by its intense taste — after all, it is almost 40 percent alcohol. Most find it refreshing! Though several cities (Campania, Sorrento, Capri, and those in Cinque Terre) lay claim to the drink, no one is quite sure where it originated. One thing's for sure: the markets and stores of Cinque Terre, the Amalfi Coast, and Capri are full of tiny limoncello bottles you can pack in your carry-on for the flight home!
Pasta… everywhere
Italy has become synonymous with its most famous dish: pasta. The first appearance of pasta was in Sicily in 1154, and the rolled mixture of durum wheat flour, water, and eggs has only grown in popularity since. Italy is home to over 300 types of pasta, known by over 1300 names, which vary by region. When in Italy, sample the most famous dishes: pasta alla bolognese, spaghetti all carbonara, trenette al pesto, fettuccine al burro, and spaghetti aglio e olio. Just don't forget to take a picture before you dig in!
---
Cmon people, it's time to use up those vacation days you've been saving and visit some bold new destination where you can eat something new, shop somewhere different, and most of all, relax—just make sure you read up on our travel advice first. Sometimes vacay sounds fabulous in theory, but without the right travel tips, planning can be so stressful and time-consuming that it ends up ruining the vacation itself—or at least, provides a major deterrent to trying something new and exciting.
To help make your trip ridiculously easy, we put together 27 tips that will help you plan your trip, pack for your trip, and, best of all, enjoy your trip—with way less stress.
Planning

1. Use an "Incognito Window" when searching for flights and hotels. Some companies will boost the prices because you've been searching the web for prices.
If you're flying out of New York or the Tri-State area, skip the car service and use JFK Discount Parking instead. With unbeatable prices and complimentary shuttle service to and from JFK, it is a fantastic alternative and ensures you're in control of making your flight.
2. If you're looking to buy a flight ticket, wait until 3 p.m. on Tuesdays. Studies indicate this is the cheapest day / time to do it.
3. Want to travel cheap? opt for a trip during shoulder season or low season whenever possible. Sure, the weather might not always be ideal, but you'll end up going to some of the hottest global spots for a lot less – and that's usually when the locals are there, so you can skip the annoying tourist hordes.
4. Whenever you're searching for flights / hotels online, google the words "promo," "discount," "coupon," or "corporate code" with the destination's name. You never know what little deals might be lurking there!
5. Always check the reviews before booking hotels. They're your best friend when the funds are limited but options are not.
Packing
6. Always check your chosen airline's baggage fee policies. Most airlines allow you to check at least one bag free, but always double-check, so you don't end up wasting before you've even gotten to your destination.
7. Placing a dryer sheet at the bottom of your suitcase will keep your clothes smelling fresh and clean during travel.
8. Nothing is more annoying than having your phone, laptop, and/or iPad chargers tangled all over your suitcase. Organize these pesky little chargers in a spare glasses case.
9. Throwing all your jewelry in a baggy and going on your way will only cause frustration when you go to grab a necklace and it's knotted with others. Use a pill container to keep them separated (and avoid tangles!).
10. Rolling your clothes instead of folding them will save tons of baggage space—which means you can pack more outfits! Yay.
11. Put a shower cap around your shoes to make sure the dirty soles don't end up getting surrounding clothes dirty, too.
12. Use a Tic Tac container for your bobby pins so you'll always be able to find one easily when you're in a pinch.
13. Always mark your bag with "fragile." Airport staff will often load your luggage on top of the others—meaning yours will come out first at the baggage claim. Sneaky, right?
14. For any delicate items you want to pack, wrap them in tissue paper. This will keep them from getting wrinkled or crushed.
15. Throw a couple of plastic grocery bags in your suitcase.  You never know what you'll need it for, and it can make organizing things in your bag a heck of a lot easier once you're on your trip. (Hello, wet bathing suits!)
16. Make sure you pack the right bras for the types of shirts/dresses you might wear (i.e. strapless, sports, etc).
17. For any items that you don't want damaging your clothes or electronics—like toothpaste, makeup or shampoo—use a Ziploc!
18. While it can be fun to pack all your favorite heels, try to be more conservative when it comes to footwear. Pack shoes that are comfortable, easy to walk in, and decorative. Nothing's worse than spending your vacation with blisters on your heels.
19. Depending on the hotel you booked, your pillowcase may be a little sketchy. Always pack your own pillowcase and a sheet, if possible, to keep things as sanitary as possible.
20. To protect any fragile products (i.e. glass foundations, fragrances), pack them inside your sneakers since the cushion can help to protect them. If you aren't opting for sneakers on your vacation, wrap each fragile item inside a pair of rolled socks.
21. Protect your compact powders by surrounding them with soft things like sponges or sweatshirts. And definitely don't put them at the bottom on your bag.
Vacationing
22. If you forget your USB wall plug, some TV sets have a USB that you can use to charge your devices.
23. Forget your charger completely? Always check with the hotel front desk—some previous guests accidentally leave their chargers and the front desk usually has a box of them. Or, just opt for a suitcase that comes equipped with one, like this one from Away.
24. Ugh, turbulence can really be annoying. To minimize it, pick a seat near the wings of the plane.
25. Fun Fact: To use Google Maps offline, type "OK Maps," in the destination search bar and the visible area will save if you need to access the map later during your trip.
---
At JFK Discount Parking, we think of ourselves as more than just a parking lot. We understand the nuances of traveling and how overwhelming it can be. Our mission is to alleviate travel woes and create a seamless experience for our customers and here's how we do it.
Having close proximity to the airport
Did you know that JFK Discount Parking is only 3 miles away from JFK International Airport? It's true. With four shuttles that run back and forth between our lot and the airport, it typically takes no more than 45 minutes to get you to your terminal. We are also way closer to the airport than any of our competitors (not to toot our own horn or anything.)
Being open 24/7
There is nothing more frustrating than parking your car in a lot and having to stall while you wait for it to reopen. At JFK Discount Parking, you will never have to endure that. We are open and available to speak on the phone at any point in the day. Whether you have a question about your car, the weather, or need to tell us that you're coming in late, we are here for anything you need. Our shuttle services don't stop running so if your flight is delayed 10 hours and you wind up landing at 3:30 AM, there is no need to fret because someone will be waiting for you at the terminal.
Our lot is well lit and fenced in
In addition to having surveillance cameras recording 24/7, you never have to worry about your car being out in the open because our location is fenced in and has bright lights shining over it during the night. Safety is crucial to us while taking care of your vehicle.
You never have to find your car
Unlike other long-term lots, we don't make our customers walk in circles to find their cars. Our system keeps track of who is coming in and out of JFK which helps our valet know when to bring your car to the front of the lot. Also, when you call us to let us know you're in need of a shuttle, that's our other indication that it's time to pull your vehicle to the front.
We are very close to gas stations
In the event that you forgot to fill up your tank before leaving your car, there is no need to panic. Our lot is located on a main road that has plenty of gas stations for you to choose from.
These are just some of the reasons why you should park with us. So what are you waiting for? Book now!
---
With President's Day around the corner, many are gearing up for vacation and are probably debating between calling that old taxi service that is notorious for being late, getting lost, or both. Another option could be to call a Lyft or Uber, but when you live in the suburbs those apps are a luxury more than a convenience. Thankfully, there's a third option and that's where JFK Discount Parking comes in to play. Our goal is to make your travel experience more pleasant but in order to do that, we should all be on the same page and here's our fool-proof guide for you.
Show up early.
Before your flight, you're always encouraged to show up to the airport 2 hours in advance. There are a number of variables that can lead to missed flights: Traffic, heavy volume of people traveling, inclement weather, banana peels on the road (we've seen it.) The same applies for parking at a long-term lot. We are the closest lot to JFK International Airport but there are times when traffic can make the trip up to 30 – 45 minutes. We don't want you to miss your flight so for that reason we encourage you to give yourself at least two hours to prep between arriving at our lot and getting to the airport.
Don't leave behind valuable things.
This is something we can't stress enough. We have a fenced-in lot with surveillance 24/7 but that does not stop some people from taking things. You wouldn't leave a pair of expensive sunglasses or a wallet in your car on any other day, so why would you leave it behind when you're on vacation? Grab any self-identifying documents, like your car insurance card and vehicle registration. They won't take up much room in your wallet or purse, and removing them will prevent a potential thief from finding your empty home.
Put gas in your car 
If you're traveling with your family and know your flight is getting in late, save yourself the hassle of filling up on your way home and just top off your tank prior to leaving for your trip. Top off your windshield wiper fluid too. It'll be helpful when you return for wiping away any dust or debris — or melting those last bits of snow if you park your car outside in winter.
What are some of your tips or tricks for parking? Let us know!
---